A custom-made cork stopper for your Adamus Organic Dry Gin
We customize our corks in black, with laser. You can add a quote, a word, a logo, or an image!
Logos must be simple and are subject to approval by Adamus brand.
You can also add other notes regarding your customization in the shopping cart when you click "add to cart".
As this is a custom-made product, it may take up to 48 hours to produce.
A super premium organic dry gin
Adamus is a handcrafted premium gin from Portugal. To create this gin, we searched for the best and most special organic botanicals in Portugal. After several distillations, laboratory tests and remarkable research on the 86 botanicals submitted to the test, we selected the best 18. 
This is the only gin in the world in which one of the botanicals is the Baga grape that  is tipical in Bairrada, a small region of this country, giving this drink a delicate and fruity flavour.
Besides the baga grape, we can find in this gin organic botanicals with biological production, such as: hibiscus, juniper, orange, lemon, cinnamon, ginger, cardamom and salvia. We cannot reveal the others because they are part of the mystery that makes Adamus so special.
The special bottle of this gin also shows one of the things that Portugal is known for, the cork. It emphasizes the naturalness of this drink and gives it a unique look.
From this complex selection of organic botanicals wisely chosen by our masters, results a premium gin with a sublime spirit and a pleasant taste.
Technical Details
Alcohol content: 44.4% 
Alc.Volume: 700ml
Weight: 2 kg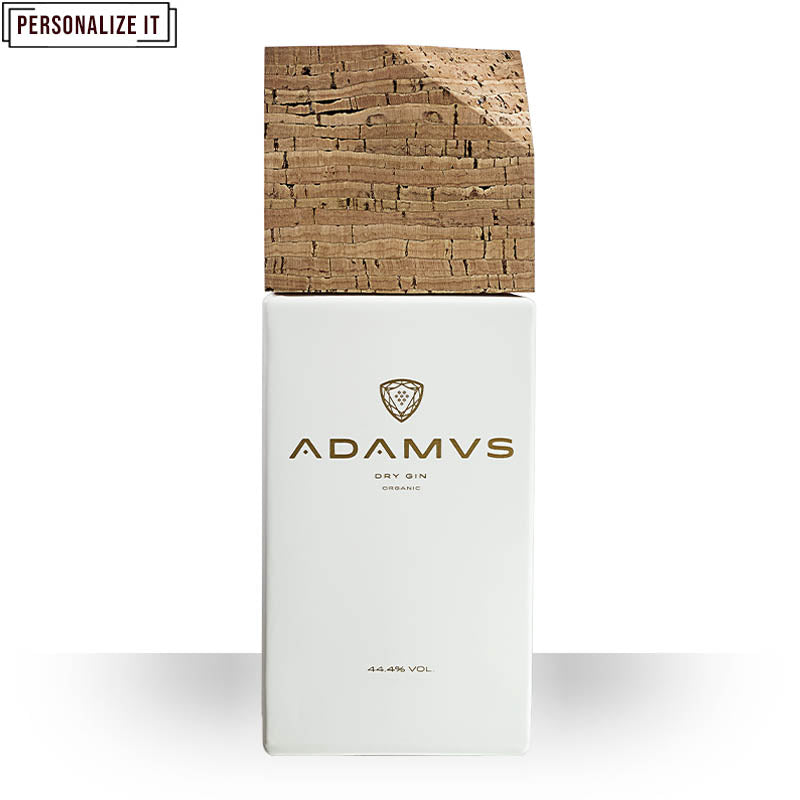 Adamus personalizado
A imagem ficou super bem na cortiça. Óptimo acompanhamento durante a entrega. Muito satisfeita.
Great packaging, fast shipping and as it was for present, hopefully taste also meets expectations :)